Nutritional Information
CARNATION® INSTANT BREAKFAST™ POWDER
Nutrient
9 fl oz Serving*
% DV**
Calories (kcal):
220
***
Calories from Fat (kcal):
5
***
Total Fat (g):
0.5
1
Saturated Fat (g):
0.4
2
Trans Fat (g):
0
***
Cholesterol (mg):
<5
3
Sodium (mg):
220
9
Sodium (mEq):
9.6
Potassium (mg):
640
18
Potassium (mEq):
16.4
Total Carbohydrate (g):
39
13
Dietary Fiber (g):
0
1
Sugars (g):
31
***
Protein (g):
13
25
Vitamin A (IU):
2250
45
Vitamin C (mg):
30
50
Calcium (mg):
500
50
Iron (mg):
4.5
25
Vitamin D (IU):
100
25
Vitamin E (IU):
7.5
25
Vitamin K (mcg):
20
25
Thiamin (mg):
0.4
25
Riboflavin (mg):
0.5
30
Niacin (mg):
5
25
Vitamin B6 (mg):
0.5
25
Folic Acid (mcg):
100
25
Vitamin B12 (mcg):
1.5
25
Biotin (mcg):
75
25
Pantothenic Acid (mg):
2.5
25
Phosphorus (mg):
500
50
Iodine (mcg):
75
50
Magnesium (mg):
100
25
Zinc (mg):
3.8
25
Copper (mg):
0.5
25
Manganese (mg):
0.5
25
*Reference Daily Intake
**RDI not established
***Includes 34% activity from beta carotene
Product information and values are subject to change.
Ingredient and nutrition information current as of April 2010.

Please see product label for most accurate information.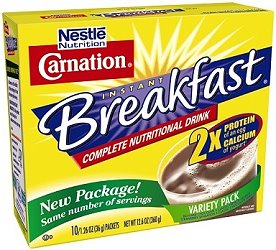 Nestlé Carnation® Plus
Instant Breakfast Powder Mix
When mixed with fat-free milk, soy milk, or lactose-reduced milk Carnation® Instant Breakfast Powder Mix provides well-balanced nutrition with a fresh, wholesome flavor. This oral supplement is an excellent source of antioxidants, vitamins, and minerals if prepared with the recommend liquids.
This great-tasting supplement is delicious and gluten-free, low cholesterol, low sodium, low residue, and kosher leaving it not only a safe supplement but a highly desired one. It packs a rich punch of vitamins and minerals that even picky eaters love.
Preparation Instructions
Just add milk, stir, and enjoy! It takes just seconds to prepare and tastes great hot or cold. Try Carnation Instant Breakfast in smoothies and shakes for a delicious energy drink any time of day.
CLICK HERE
for a great site to get Nestlé Carnation® Nutrition Drinks in bulk!
Nestlé Carnation® Instant Breakfast Cans
Adds 220 calories to diet when mixed with non-fat milk. To increase calorie intake use with whole milk.
When mixed with milk, each serving provides at least 25% of the RDI for 21 essential vitamins and minerals
Contains more calcium than a glass of milk and 3X the protein of most breakfast cereals.
Case includes 60 envelope packets.
Do not use for tube feeding.
Available Flavors: Classic French Vanilla, Rich Milk Chocolate, Strawberry Sensation, and Variety Pack
Ingredients
Water, Corn Syrup Solids, Calcium Caseinate (from cow's milk), Canola Oil, Sugar, and less than 2% of: Corn Oil, Natural and Artificial Flavors (contains milk), Soy Lecithin, Sodium Citrate, Potassium Citrate, Potassium Phosphate, Magnesium Chloride, Salt, Choline Chloride, Citric Acid, Sodium Ascorbate, Magnesium Oxide, Carrageenan, Taurine, Calcium Citrate, Sucralose, Zinc Sulfate, Ferrous Sulfate, Niacinamide, Vitamin E Acetate, Calcium Pantothenate, Manganese Sulfate, Turmeric Color, Vitamin B6, Copper Sulfate, Vitamin B2, Thiamine Mononitrate, Beta-Carotene, Biotin, Folic Acid, Vitamin A Palmitate, Vitamin D3, Chromium Chloride, Vitamin K1, Potassium Iodide, Sodium Molybdate, Sodium Selenate, Vitamin B12.